May 2019
| Sun | Mon | Tue | Wed | Thu | Fri | Sat |
| --- | --- | --- | --- | --- | --- | --- |
| | | | 1 | 2 | 3 | 4 |
| 5 | 6 | 7 | 8 | 9 | 10 | 11 |
| 12 | 13 | 14 | 15 | 16 | 17 | 18 |
| 19 | 20 | 21 | 22 | 23 | 24 | 25 |
| 26 | 27 | 28 | 29 | 30 | 31 | |
Calendar

Social bookmarking










Bookmark and share the address of Compass Guide Members Forum on your social bookmarking website
27-Aug Song Of Songs 5-6, Titus 3, Philem. 1, Psalms 141-145, Proverbs 27
Proverbs 27:26-27 (NIV) 26  the lambs will provide you with clothing, and the goats with the price of a field. 27  You will have plenty of goats' milk to feed you and your family and to nourish your servant girls.
There are two different animals which walk and feed together, but which have completely different purposes, products and destinies.  Lambs and sheep produce wool for clothing, and goats provide milk for larger projects.  While a sheep can provide you with a sweater, a goat can provide you with groceries for the entire family.  Which would you rather have?  Actually, the proper question is: Do you have both a sweater and groceries, or just one of the two?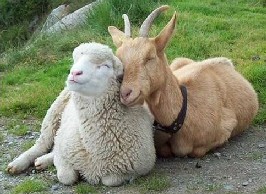 " />
I remember a good pastor friend of mine who has since passed away, who used to say a funny statement: "Fleece the sheep, milk the goats, and barbecue a goat once in awhile in front of the others to remind them who the shepherd is."  While that statement might sound harsh, it was the true life of a good pastor when it came to operating a church and dealing with people.  While sheep are docile, fearful and somewhat oblivious to danger, goats are pushy, boisterous, they will eat anything, and they love to cause trouble - it's their nature.  This represents people to a great degree, and I think that all of us can find a little bit of sheep and a little bit of goat in ourselves if we search hard enough.
The fact is that a good minister, business person, family leader, etc. - will learn that both sheep and goats are needed to build great things for God.  They each provide something specific, and they are both needed to sustain plenty of provision and covering.  We know that at the end, Jesus will separate the two. But until then, we as managers and builders must learn to properly manage both in the same field for ultimate success.  I am talking about human nature, people, employees, church people, and anywhere you find human beings living, working and playing in a community.  Value and honor must be given to the good, the bad and the ugly, and our personal disdain for one or the other must be put aside for the greater cause of Christ.
PERSONAL STORY:  When I was a lead pastor in St. Louis, MO, I had a distaste for goat natured people.  I could smell them a mile away.  I didn't like their head butts, their obnoxious behavior, and their willingness to eat anything and everything spiritually, from a spiritual tin can to a bicycle tire.  Therefore I had trained my leadership team to keep them away from our church.  We had virtually no goats in our church. We had peace, we had healthy sheep, we had clothing, and we had no groceries or solid building program.  Proverbs 27 says . . . goats with the price of a field.....    Goats provide the larger money for large projects like buying a field and building something on your property.  They provide enough groceries for the entire family.  And while I was in St. Louis, we always had nice clothing of wool, but we never had large building programs.  We never had enough money to buy a field or to do something great.  Why?  Because we didn't know how to manage and honor goats.
Management of lambs and goats together takes the heart of a king and a true shepherd gifting.  God has graced us with that gift through His mighty gift of love.  But without His love, compassion and the fires of Christ for all mankind, we will never have the capacity to manage both sheep and goats, and to love them both.  
As you prepare to build something great for God in your life time, make sure that you develop a true love and passion for the lost, and for sheep and goats alike.  Patience, endurance, long suffering, kindness and love that's born of God will be your key to loving the unlovable, accepting the unacceptable, and embracing those with a strong forehead of resistance.



Tomorrow's Reading:
28-Aug Song Of Songs 7-8, Hebrews 1-2, Psalms 146-150, Proverbs 28
_________________
Sincerely,
Dr. Daniel Daves

The Giant Tracker
www.doctordanieldaves.com

Admin




Posts

: 395


Join date

: 2012-11-03


Age

: 57


Location

: Dallas, TX & San Jose, Costa Rica



---
Permissions in this forum:
You
cannot
reply to topics in this forum