May 2019
| Sun | Mon | Tue | Wed | Thu | Fri | Sat |
| --- | --- | --- | --- | --- | --- | --- |
| | | | 1 | 2 | 3 | 4 |
| 5 | 6 | 7 | 8 | 9 | 10 | 11 |
| 12 | 13 | 14 | 15 | 16 | 17 | 18 |
| 19 | 20 | 21 | 22 | 23 | 24 | 25 |
| 26 | 27 | 28 | 29 | 30 | 31 | |
Calendar

Social bookmarking










Bookmark and share the address of Compass Guide Members Forum on your social bookmarking website
When God evades you and goes into hiding, He wants you to chase Him down and follow Him somewhere. You must break out of your rut and routine and set out to find Him! GO! He is leading you somewhere!
Today's Reading: 9-Aug Job 23-24, Ephesians 1-2, Psalms 51-55, Proverbs 9
Job 23:10-12 (NIV)  But he knows the way that I take; when he has tested me, I will come forth as gold.   My feet have closely followed his steps; I have kept to his way without turning aside.  I have not departed from the commands of his lips; I have treasured the words of his mouth more than my daily bread.
Job was going through the fire! He was searching for God but couldn't find him. Everything was dark, and everywhere he went to find God, He had evaded Job finding Him.  Left, right, backwards, forwards, God was nowhere to be found. Yet Job continued steadfastly, walking what he knew, serving God who was evading him, and not departing from God's commands.
I remember one time in my life when everything in my hands died. My closest relationships, friends, family, everyone disappeared from my life, so it seemed. My money disappeared, my abilities dried up, and nothing worked.  I sought God day and night, and even went into a 21 day fast to find God and get a breakthrough. It seemed as though God had disappeared and was nowhere to be found.  I was young and tenacious, and I was going to get a breakthrough one way or another.  Thank God I got the breakthrough and it was mighty and powerful!  But I think of so many who may be weak, tired, hurt or in despair.  I think of other times in my life when I have not been so strong and tenacious. Would I have stayed with the Lord and kept pressing in to seek Him out until I found him?
Isaiah 55:6 (NIV)  Seek the LORD while he may be found; call on him while he is near.
What about seeking the Lord when He is not hear and when he cannot be found?  What does a person do when it seems as though God is evading him/her?  I believe that many are in this period right now, where God is NOT necessarily near, and God is hiding Himself from many.  
THIS IS A TEST OF THE EMERGENCY BROADCAST SYSTEM.
Ever remember seeing this when you were younger on TV?  Remember the noise, the beeps, and the data sounds that would come across as we stared at this blank screen?  Beeeeeeeeeeeeeeep................. click, click, whaaaaaaaaa.......... silence....... beeeeeeeeep.............. silence....................    This was the screen that would come up in case of a national emergency, and hopefully someone would be on the other end giving instructions, news, and details on what is going on, and what a person is supposed to do.  
I believe that this is the picture that many Christians are getting from Heaven right now. There are a miriad of reasons why the Lord hides Himself from us during troubling times.
1. He is calling us to seek Him deeper, with more fervency, and with ALL OF OUR HEARTS.
Deuteronomy 4:29 (NIV)  But if from there you seek the LORD your God, you will find him if you look for him with all your heart and with all your soul.
2. He may be rebuking us for walking away from him, or our hearts growing cold towards Him as the Church in Laodicea had done (Rev. 3:16).
3. His silence and disappearance might be part of a city or national rebuke after the general population has rejected God and removed Him from their minds, lives, and daily activities.  The United States of America is currently (2014) experiencing this pull back from Heaven, as well as the teen generation in the USA. They are suffering the national pullback of Heaven because of the sins of their fathers, the unholy generation who has murdered 55+ million innocent babies during a 41 year generational period (Roe v Wade) and countless illicit wars and fights picked by our rogue US government who has left the Constitutional rule of law.  (more on this is available in other writings and radio programs).
When you experience a pullback from Heaven as Job did, you can overcome this.  As a matter of fact, the noble thing to do is to press in and overcome this pullback.  Chase God down and tackle Him.  Wrestle with him as Jacob did, and don't let Him go until He brings the change that is necessary.  Throw off your sleep and slumber and pursue God as if there is no tomorrow. Fast, pray, read His Word, seek counsel, and get under the voice of godly men and women who are preaching a hard truth without mincing words or adding sugar.  Go the extra mile. Take a road trip to a conference. Get on a plane and travel to a foreign land.  Join a missions team.  Go evangelize a neighborhood. Break the barriers and get out of your normal routine. You must escape the rut which your spiritual pickup is caught in, and get freed back up!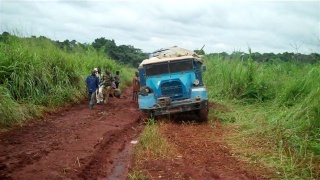 Some of the best times that a person can have with the Lord is to seek Him on the other side of planet earth! I am not joking, but am very very serious!  Job said that he counted God's words more valuable than his own daily bread.  Job was willing to stop eating if it meant that he would find God and God's words for him.  This is true spiritual hunger!
A friend of mine was ministering this last month about spiritual hunger and he said something profound. Andrew Foote mentioned that the Lord showed him that "No one is hungry when he is asleep."  Now, with that in mind, ask yourself if you are awake or asleep.  If you are asleep, shake yourself and wake yourself up.  If you are awake and have not been spiritually hungry for a long time, you have a sickness that must be confronted. Either you have been feeding on the wrong food or on too much of the wrong food and you are bloated, or you haven't had good spiritual food in so long that your little emaciated body is closing down and going into 'last days survival" like a bloated stomached starving child who feels no hunger any longer.
If God is evading you, it's time to pursue Him. Put the heat on Heaven and begin launching into every way, shape, and form of pursuit to dislodge God from His hiding place.  This is your calling, it's your command, and it's God's pull on you.  Go where you need to go.  When you get there, you will have found your new place IN HIM! You will have passed the test and come out as gold. You will live in a new dimension from that time forward for the rest of your life! Heed the call!
COMPASS GUIDE is the program that will launch a person into that "tried in the fire" pure gold lifestyle.  If God is evading you, the first thing you should be doing is walking in the 13 keys of COMPASS GUIDE!  Get the book today and watch the 15 online programs that will lead you into success.  Think like a king, filter, focus, and build your 25 word core vision statement.  Those who build their statements will walk like Job and will NOT leave the path, even if God is evading them.  Compass Guide students have learned to pursue God and to find him, with ALL of their heart.  
www.doctordanieldaves.com
.
Tomorrow's Reading:
10-Aug Job 25-26, Ephesians 3-4, Psalms 56-60, Proverbs 10
_________________
Sincerely,
Dr. Daniel Daves

The Giant Tracker
www.doctordanieldaves.com

Admin




Posts

: 395


Join date

: 2012-11-03


Age

: 57


Location

: Dallas, TX & San Jose, Costa Rica



---
Permissions in this forum:
You
cannot
reply to topics in this forum